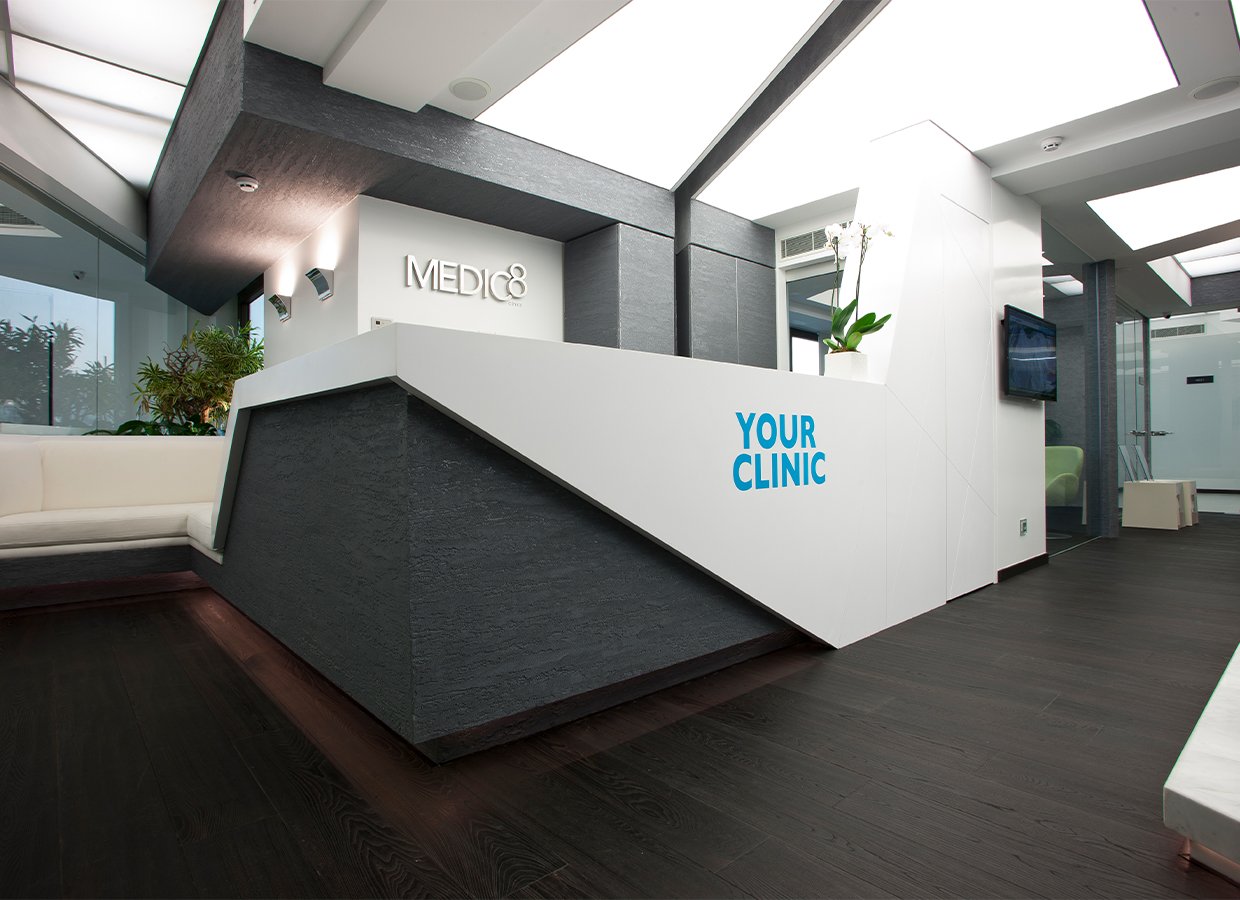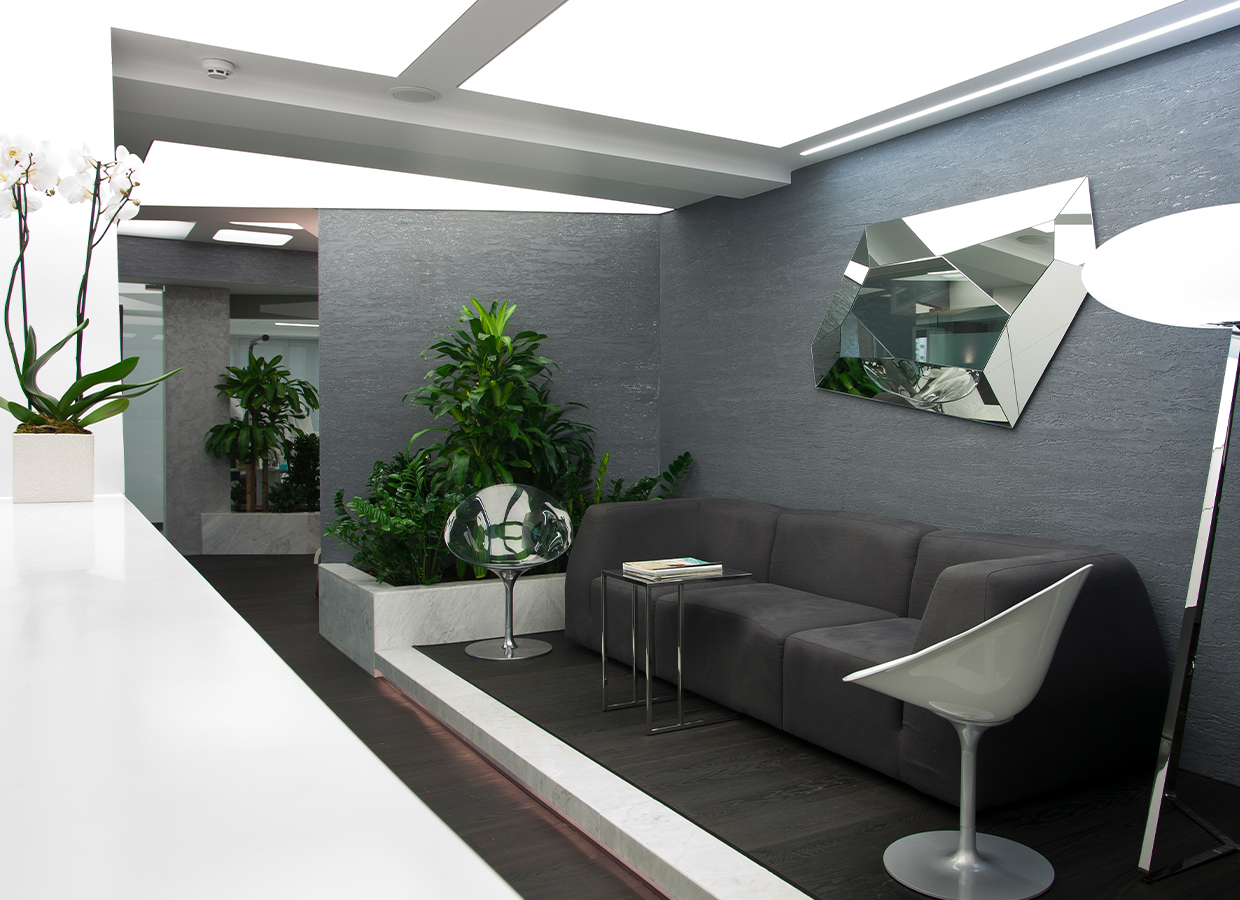 Cosmetic Dentistry

Medic8clinics Computerized dentistry veneers

Medic8clinics Computerized dentistry veneers, a New High-End Patent Trademark of computerized cosmetic dentistry.
The technique is simple, we need generally 2 sessions: we take an impression for your natural teeth (without drilling), done at our Medic8 Digital lab, then after 3 to 5 days only we do the placement of these very high-quality aesthetic veneers.
Medic8clinics veneers can be made as thin as (0.3mm) while being very resistant, of 30% more resistant than any other Hollywood smile makeover technique.
Our dental specialists design every case individually depending on the shape and shade of the normal teeth, the shape of the lips and face and the preference of the patient, to attain a perfectly natural result.
Medic8clinics provides a certificate for every patient who opt for a smile makeover as well as a 5 International years' warranty.

Veneers

Veneers are thin lenses of porcelain used to recreate the natural look of teeth, while also providing strength, resilience and translucency comparable to natural tooth enamel. It is often the best option for those looking to make minimal position alterations or to change the shape, size, or have a permanent white color.

Advantages of having porcelain veneers:

Look & feel natural – Made to match your natural teeth
Strength & durability – strong, durable material
Long lasting solution – Last 7 to 10 years
Quick, simple – completed within two, or three visits
Stain-resistant – resistant to staining, coffee, smoking, food colorants
Confidence
Two years warranty

Composite Veneers

Due to the variety of dentin and enamel bonding agents that are currently available, the direct application of composite resin can now be performed with success and predictability.

Recent advances in composite resin formulation such as enhanced strength, wear, stability, aesthetics, and ease of manipulation, expanded indications for direct techniques.

Polychromatic direct composite veneers can be placed in a single appointment.

Zirconium

In dentistry, there has been continuous research and development to find materials suitable for dental prosthesis that are aesthetically acceptable and has sufficient strength to withstand the forces of chewing.

Besides, they must be well tolerated by the human body.

For many years ceramic materials combined with metals have been used in dental restorations – ceramic gives the desired aesthetics and metal is used for strength.

Advantages of Zirconium:

• High crack resistance. If a material is stressed, it may crack. The unusual feature of zirconium oxide ceramic in comparison with other ceramics is that at the appearance of a high-tension area a transformation of the crystal structure can take place and by this volume increase it builds wedges in the crack and therefore it reduces the continuation of the crack.

• Translucency that is very similar to a natural tooth. Light is reflected from a Zirconium crown in much the same way. This means that Zirconium will produce the best aesthetic effect, which is important if your new crowns are to be at the front. It is particularly the case when the crowns will be seen beside natural teeth.

• Fully biocompatible so there are no risks of allergic reactions. It is increasingly being used in general surgery as well as in dentistry.

CAD CAM

Medic8clinics affiliated dental clinics introduces the most advanced CAD (Computer Aided Design) – CAM (Computer Aided Manufacturing) technologies.

The CAD/CAM technologies are used to produce different types of dental restorations, including crowns, veneers, inlays and onlays, fixed bridges, dental implant restorations and orthodontic appliances.

The computer program displays a 3D custom image of teeth, allowing to precisely design the tooth restoration with functional and aesthetic characteristics. Once the computer and cosmetic dentist have designed the restoration, the information is sent to a sculpting machine (milling), which creates the restoration to the exact specifications of the design through CAM.

There is no need for impression taking, temporaries or unnecessary reduction of healthy tooth structure. The technology is so precise that dental restorations made by CAD/CAM often fit better than those made by hand in a dental lab.

Smile Makeover

A smile makeover involves one or more cosmetic, dental or facial rejuvenation procedures to improve the aesthetics of your smile. Often, smile makeovers are a combination of procedures, such as straightening teeth, repairing a chipped or broken tooth, replacing missing teeth, re-contouring gums, whitening discolored teeth and other cosmetic dentistry procedures.

There are many different ways in which you can improve your smile using modern cosmetic dentistry:

• Chipped, broken teeth can be repaired. The treatment will depend on the extent of damage, but the options include cosmetic bonding, porcelain veneers or porcelain crowns.

• Crooked teeth can be straightened. With Invisalign braces or conventional orthodontics. Orthodontic treatment can also rejuvenate your facial appearance by reshaping the jaw, neck and lips, especially when combined with maxillofacial surgical procedures. They can also be covered with porcelain veneers for a faster solution, often referred to as "instant orthodontics".

• Missing teeth can be replaced. They can cause functional problems as well as being unsightly. Solutions include dental implants, a dental bridge or a denture.

• Gaps between your teeth can be closed to give you a better smile. This can be achieved instantly with porcelain veneers or Lumineers. Orthodontics can also be used to move the teeth and close the gaps between them. Invisalign invisible braces, the Inman aligner, Damon braces, lingual braces and fixed orthodontics are just a few options for moving your teeth to close gaps.

Orthodontics

Braces

Dental braces are devices used to align and straighten teeth. They are often used to correct underbites, overbites malocclusions, open bites, deep bites, cross bites,] and various other flaws of the teeth and jaw.
Braces can be either cosmetic or structural. Dental braces are often used in conjunction with other orthodontic appliances to force and pressure on the teeth, widen the palate or jaws and shaping the teeth and jaws.
We at Medic8clinics, provide a range of teeth straightening options.

Damon system braces

They are made from the same materials as traditional braces. However, these braces do not require the use of elastics, which means, fewer appointments and less friction being placed on the tooth. Self-ligating braces come with traditional metal, ceramic, or clear brackets. They use a specialized clip in place of elastics to help the archwire guide teeth into place. The clip helps reduce the amount of pressure being placed on the tooth, and requires fewer adjustments because there are no elastics to replace.

Clear or ceramic braces

Serve as a cosmetic alternative to traditional metal braces, by blending into the natural color of the teeth. Typically, these brackets are made of ceramic function in a similar manner to traditional metal brackets. Clear elastic ties and white metal ties are available to be used with these clear braces to help keep the appliances less conspicuous.

Lingual braces: Eline system

They are a cosmetic alternative to traditional metal braces, except that the brackets and wires are placed on the inside of teeth making them externally invisible.

Invisible teeth straightening process

For your benefit, at our clinic, your orthodontic problem can be corrected with Progressive Clear Removable Aligners

Clear Aligner and SureSmile Aligner

CLEAR ALIGNER has been developed especially for treating adults and allows aligning your teeth in a smooth way – without clasps, screws or brackets. Instead of metal elements you'll be wearing a biocompatible resin splint, almost unnoticed
In this treatment you will be wearing three splints in each treatment step, consisting of different material thicknesses.
It needs 12 months to ensure the desired result.

Oral Surgery

Dental Implants

Dental Implants is the perfect Replacement for missing teeth Considering shape, functionality and aesthetics.

Titanium or zirconium screw anchored into the bone to replace a missing tooth holding a replacement crown or bridge.

The treatment could be done under sedation anesthesia for patients with special conditions.

At Medic8 affiliated dental centers, we use the most modern method for teeth replacement – One of the latest high- techniques is laser-assisted dental implantation ensuring the below advantages:

• Reduced surgery duration
• Bloodless surgery providing easier access to the operated surface
• Avoiding the risk of postoperative complications
• Accelerated healing process.

Dental Implantation Surgery Methods:

I. One Day Implant

Having one or more missing teeth is embarrassing to patients, and waiting 3-4 months for a traditional dental implant procedure is inconvenient. For that, Medic8 affiliated clinics provide the one-day implant technology with 97% of success rate.

The One Day Implant is completed within 24 hours by which both the implant and crown are placed and this enables patients to return to their normal life style more quickly and regain the function of natural teeth directly.

II. Two steps surgery

The two steps surgery uses the traditional implant process:The first step being a surgery in which the dentist installs the implants which are left for three to six months so that they can heal and integrate with the jawbone. In the second stage of this Dental Implant Surgery, the permanent crown will be placed.

Bone Graft

Most dental bone grafting procedures are done to restore your bone to its previous form following tooth loss, gum disease or trauma.

Restoring and maintaining facial bone structure is important for several reasons. Many dental procedures, such as dental implant placement, require that the bone be as close to its original dimension and position as possible for optimal results. Also, the jaw and other facial bones support the skin and muscle that are responsible for our outward cosmetic appearance. Without the support of the underlying bone, our faces can look prematurely aged.

Gum Graft

Grafting is a procedure to restore missing bone or gum tissue. A gingival graft is a generic name for any of a number of surgical periodontal procedures whose combined aim is to cover an area of exposed tooth root surface with grafted oral tissue.

Retrieving soft tissue from the roof of your mouth sometimes treats gum recession. Healthy gum tissue protects your teeth from periodontal disease, and sensitivity while giving you a great smile. Routine dental check-ups along with proper brushing are essential for maintaining healthy gums; however some patients may require treatment.

Objectives of gum graft

• Prevention of further root exposure,
• Decreased or eliminated sensitivity,
• Decreased susceptibility to root caries,
• Improved cosmetic.

Gum recession:

Aggressive tooth brushing , periodontal disease are two primary causes for recession, which can lead to the following:

• Unattractive smile
• Root sensitivity
• Loss of supporting bone
• Tooth decay
• Plaque build-up
• Risk of future recession

Orthognatic Surgery

Orthognathic Surgery is not intended to replace orthodontics for straightening the teeth when the relationship to the jaws is within the normal range, but cannot change the relationship of the jaw, Orthognathic surgery is usually done in conjunction with orthodontics to provide the best possible end result.

Situations where Orthognathic surgery is needed:

1. Apertognathia:

Is a situation when the back teeth meet but the front teeth do not touch. This space causes difficulty in biting with the front teeth.

2. Prognathia:

Is a situation where the lower jaw is too large and grows too far forward. Surgery can be used to slide the lower jaw back.

3. Retrognathia:

Is a situation where there is a "severe" overbite. This situation is managed with surgery and orthodontics together.

Orthognathic is a surgery to correct jaw and face structural conditions, growth and sleep apnea, TMJ disorders or to correct orthodontic problems which cannot be easily treated with braces.

Bones can be cut and re-aligned, held in place with either screws or plates and screws. An oral and maxillofacial surgeon always in collaboration with orthodontic treatment performs Orthognathic surgery, often including braces before and after surgery and retainers after the final removal of braces.

Orthognathic surgery is often needed after reconstruction of cleft palate or other major craniofacial anomalies.

Crown lengthening – Aesthetic surgery

Crown lengthening is a surgical procedure done to expose a greater amount of tooth structure for the purpose of subsequently restoring the tooth prosthetically. This is done by incising the gingival tissue around a tooth, and after temporarily displacing the soft tissue, predictably removing a given height of alveolar bone from the circumference of the tooth or teeth being operated on.

Water Laser in crown Lengthening

We at Medic8clinics, use the advanced technology to improve the teeth length by using the waterLase technology to cut the unwanted gums.

Endodontic Dentistry

Endodontic

If your tooth has been heavily filled, cracked or decayed, this may lead to pain, infection or darkening of your tooth. If any of these symptoms occur, then there's a possibility that your tooth requires root canal treatment; Also known as endodontic treatment or root canal therapy.

Microscopic Endo

Root canal treatment at Medic8clinics, is a virtually pain free way to eliminate the often agonizing pain of an infected or highly inflamed tooth, and may helps to prevent worsening pain or infection. It is a highly skilled area of dentistry, and generally using the laser to complete an EndoLase procedure which provides very conservative treatment of the anatomy of the inside of the tooth, that is why Laser Endo and Microscopic Endo are options at our clinics for conservative treatment and best results.

Advantages of Microscope

Optical quality

A dental microscope is at its core an optical instrument, which allows the dentist to see enhanced details in order to work as precisely as possible. Therefore, there should be no compromise concerning the optical components. Only superior optical quality with excellent clarity offers high resolution, large depth of field, and maximum light transmission. This is indispensable for a successful root canal treatment as the root canals are in most cases not rectilinear and have cavities and tiny ramifications, which are difficult to detect without high magnification and depth of field. Accurate color representation is also required for easy differentiation of anatomical details.

Documentation

Today, videos and images play an ever-increasing role within the dental practice for many reasons.
Firstly, during a procedure, live on-screen video can help the assistant to support the dental surgeon.
Secondly, video is a useful training tool either during or post treatment, additionally, it can be shared with the wider dental community online or at seminars.
Thirdly, video can support patient relationships and trust, as the dentist can show the patient what he sees which take them through the steps of a procedure and thus include them in consultation and treatment.
Finally, video and images can be included in a patient's file for more thorough documentation and to facilitate easy review. Ease of transfer to a practice documentation system and the ability to save different file formats are therefore further key considerations.

Whitening

Bleaching

Teeth bleaching or whitening is among the most popular cosmetic dental procedures. It's a simple, non-invasive dental treatment used to change the color of natural tooth enamel and is an ideal way to enhance the beauty of your smile. Teeth whitening techniques are not permanent. A touch-up may be needed every several years.

Pediatric Dentistry

Pediatric dentists are dedicated to the oral health of children from infancy through the teen years. They have the experience and qualifications to care for a child's teeth, gums, and mouth throughout the various stages of childhood.
Children begin to get their baby teeth during the first 6 months of life.
By age 6 or 7 years, they start to lose their first set of teeth, which eventually are replaced by secondary, permanent teeth.

Types of Treatments Do Pediatric Dentists Provide

Pediatric dentists provide comprehensive oral health care that includes the following

• Infant oral health exams, which include risk assessment for caries in mother and child.
• Preventive dental care including cleaning and fluoride treatments, as well as nutrition and diet recommendation.
• Habit counseling
• Early assessment and treatment for straightening teeth and correcting an improper bite.
• Repair of tooth cavities or defects.
• Diagnosis of oral conditions associated with diseases.
• Management of gum diseases.
• Care for dental injuries.

The Best Care for Children

Children are not always able to be patient and cooperative during a dental exam. Pediatric dentists know how to examine and treat children in ways that make them comfortable.

In addition, pediatric dentists use specially designed equipment in offices that are arranged and decorated with children in mind.

A pediatric dentist offers a wide range of treatment options, as well as expertise and training to care for your child's teeth, gums, and mouth.

Dental Sedation

Safety is parent's top consideration when it comes to their child receiving dental sedation. Dentists may recommend sedation for long, complex procedures and for patients who are especially young or nervous. Sedating a patient is normally a very safe procedure, and parents can help reduce the risks and stress level for their child before, during and after the treatment.

Oral sedation, nitrous oxide and intravenous sedation are the major types of sedation dentists provide. Oral sedation is taken by mouth or through the nose as soon as the patient arrives at the appointment, as the medicine usually takes up to 20 minutes to work. Oral sedation doesn't put patients to sleep, but it helps them stay calm and relaxed.

Nitrous oxide, or laughing gas, also helps children remain calm. A mask delivers a mixture of nitrous oxide and oxygen, and within five minutes, the patient relaxes and experiences euphoric feelings. At the end of the procedure, pure oxygen is given to the patient to clear out any remaining nitrous oxide.

One of the major benefits of sedation dentistry is that patients often feel like their dental procedure lasts only a few minutes, when in fact it might have taken hours to perform. Therefore, complex dental procedures or extensive rebuilding procedures that normally require multiple visits can often be performed in fewer appointments.

General Anesthesia

Young children are often very frightened of the dentist. The sounds they hear from the dental drill and the feeling of pressure that they feel can make them go into hysterics, even if they do not actually feel pain.

Moreover, some children need to have a lot of dental work completed on multiple teeth. Thus, it is often best to put the child completely to sleep and finish all of the treatment in one, stress-free visit.

General anesthesia is commonly used for surgery and a small percentage of patients who are not good candidates for sedation dentistry. Most often it's recommended for children who cannot tolerate extensive dental treatment; this procedure puts patients to sleep, making them completely unconscious and unable to respond to touch or voices.

General anesthesia may be the preferred treatment for a child with a mental/physical disability for whom a hospital setting provides the safest option.

The greatest advantage of putting a child to sleep while getting their dental work done is that they will not be traumatized by their dental work. Some of the medications that are used actually help the child forget all about what happened during the treatment. Also, once the child is completely asleep, all treatment, including x-rays, fillings, crowns, and cleaning can be done at once in a manner that is not traumatic or scary for the child.